Folio From A Shahnama: Shah Kay Kavus Attempts To Fly To Heaven
Iran
741 H/1341 CE
Opaque water colour, gold and ink on paper
Description

Never a paragon of the perfect ruler, the gullible shah Kay Kavus was tempted by a demon to pursue a preposterous and dangerous plan - to fly to heaven, and conquer the secrets of the celestial spheres. Having considered his options, the king proceeded as follows: he ordered his servants to collect live eagle chicks, and hand-rear them in the palace on fresh meat. Once fully grown, the tame eagles were formidable, "as strong as lions", and Kavus then ordered his servants to harness four of the birds to a specially-constructed throne, with slabs of raw meat suspended just above the eagles. Next, the foolish king sat into his contraption, and the straining eagles soon had him airborne, as they struggled to reach the dangling food. This is the moment depicted here: hoisted away by the giant birds, Kay Kavus points up in excitement towards the approaching heavens - where the first sphere of the fixed stars or constellations may be seen, with the sun beyond. Eventually of course the birds grew tired, and the king's upward trajectory came to an end. The plummeting throne crashed to the ground, tipping out the royal passenger in a remote region. He survived the failed adventure, but was greatly humiliated by the contemptuous reproaches of his noblemen when they came to rescue him.
https://www.facebook.com/photo.php?fbid=378804262185245&set=a.117851534947187.14186.100001670242651&type=1&relevant_count=1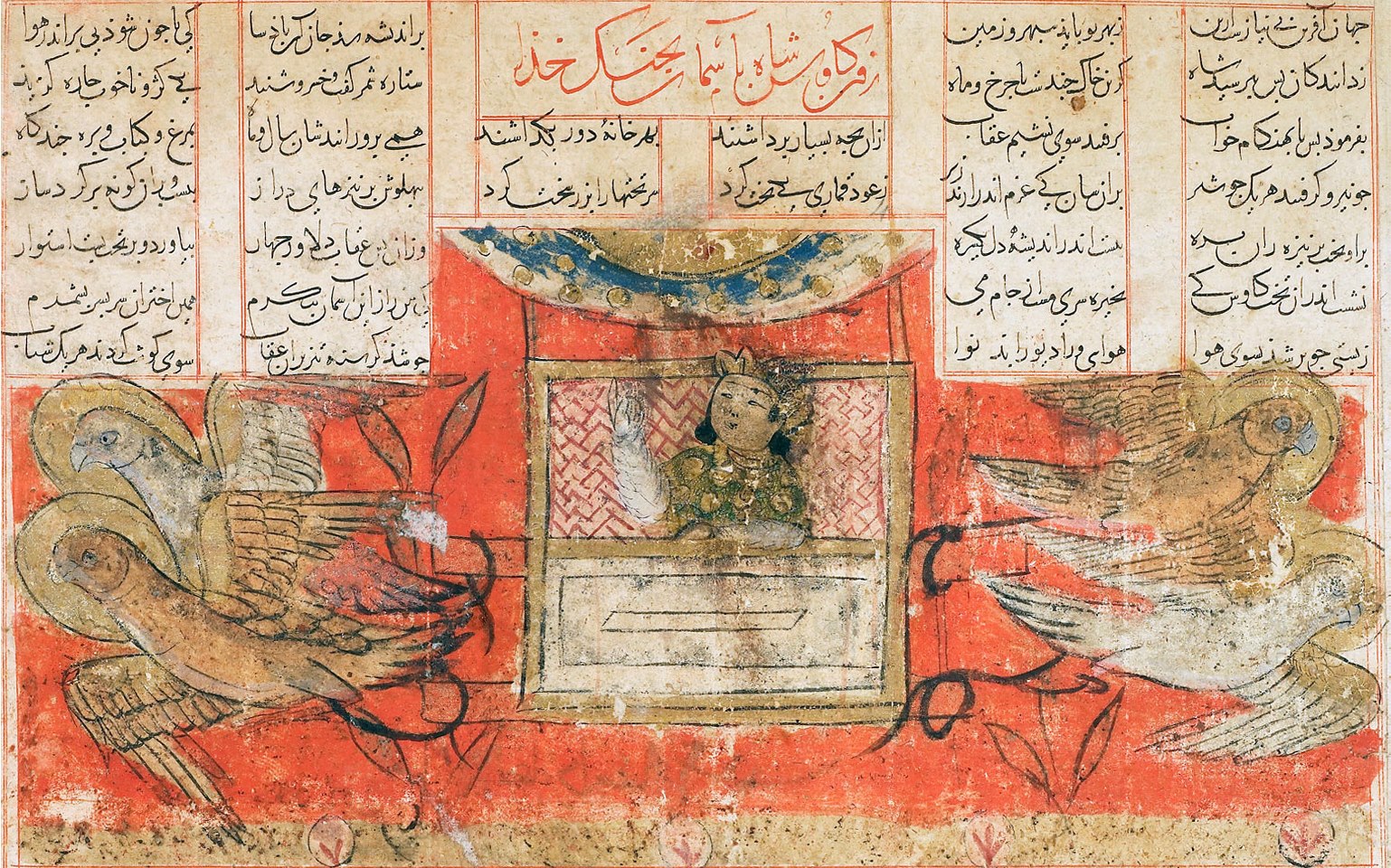 (

0

لایک)