بررسی دو نگاره از اکوان دیو را از اینجا بخوانید.
جنگ رستم و اکوان دیو برگی از شاهنامه قرن دهم هجری قمری مکتب تبریز
محل نگهداری موزه رضا عباسی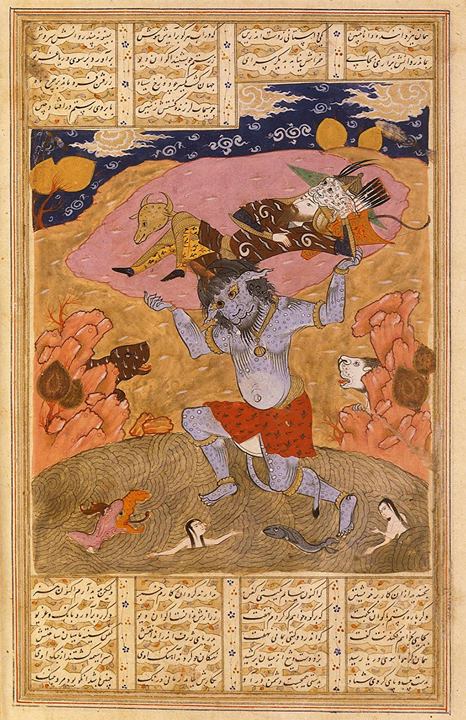 Akvân transporte Rustâm sur un bloc de rocher pour le jeter dans la mer
Ferdowsi, Shâhnâmeh (Le Livre des rois)
Chirâz puis [Ispahan ?] (Iran), 1604 et vers 1610.
Papier, 470 f., 39,5 x 27,5 cm
BnF, département des Manuscrits, supplément persan 490, f. 157v
© Bibliothèque nationale de France
Commencé à Chirâz, ce manuscrit a probablement été terminé à Ispahan, la nouvelle capitale safavide. On y voit le héros Rustâm s'éveiller alors que le div Akvân est en train de le transporter sur un bloc de rocher pour le jeter dans la mer. Rustâm porte ses attributs habituels : cotte en peau de tigre, casque en crâne de léopard et massue à tête de vache.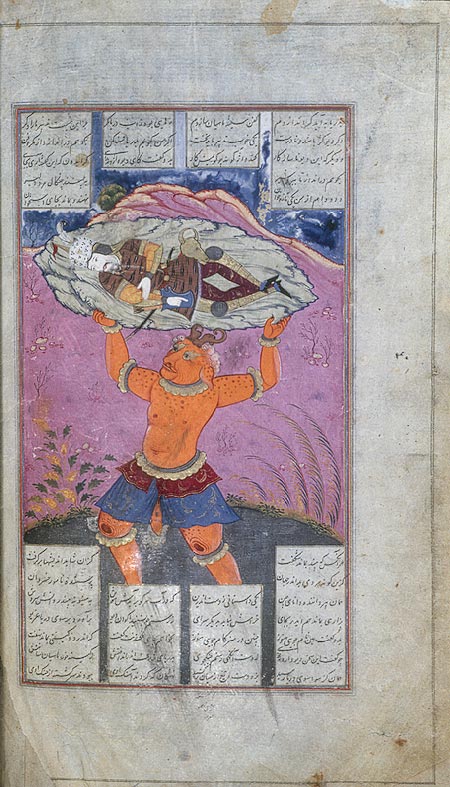 http://www.metmuseum.org/toah/works-of-art/1974.290.43
The Div Akvan Throws Rustam into the Sea: Folio 158v of the Shahnama (Book of Kings) of Firdausi, Safavid period (1501–1722), 1660s
Signed by Mu'in Musavvir (active ca. 1630–97)
Iran, probably Isfahan
Ink, opaque watercolor, gold, and silver on paper; H. 14 1/2 in. (36.8 cm), W. 9 1/16 in. (23 cm)
Bequest of Monroe C. Gutman, 1974 (1974.290.43)


SEE COMPLETE RECORD
.
The painter Mu'in had an extraordinarily long working life, from about 1630 to 1697. Initially Mu'in's style was very close to that of his brilliant master, Riza-yi 'Abbasi, the salient characteristics of whose works he could imitate with great virtuosity, but he soon developed a broad and fluid style unmistakably his own. He illustrated various Shahnama manuscripts, including one in the Museum's collection to which he contributed twenty-one miniatures during the 1690s, toward the end of his career. Of the twelve miniatures remaining in the volume, seven contain the signature of Mu'in Musavvir, and one other bears his name but appears to be a later attribution. The other four may be attributed to Mu'in on stylistic grounds, and all appear to have been painted during the same period.
In this painting, King Khusrau has summoned Rustam, the hero of the Shahnama, to stop the div Akvan's ravaging of the herds. Rustam pursued the div in the wilderness for several days until, weary from the chase, he fell asleep by a spring. The vengeful demon dug the earth around Rustam and raised him on this bed of earth. The painting depicts the moment when Akvan pauses to decide whether to hurl Rustam against the mountain or into the ocean. Rustam asked to be thrown into the ocean, predicting that the evil mind of the div would choose the opposite. Akvan threw Rustam into the ocean but eventually Rustam reached the shore and defeated the div in combat.
Related

(

0

لایک)